Professional Staff

Our PGA Head Professional David Kendall
Assistant Golf Professional Glenn Beatty
are here to serve your needs!
Call them for lessons, club fitting or a game of golf!
Call for them at
Pro Shop:  360-458-3332

David Kendall, PGA
Born in 1964, Dave grew up in Syracuse, NY. Upon graduation from high school in 1982, Dave enlisted in the United States Army Infantry. He developed his love for the game of golf while traveling the world during his twenty year tenure. Dave even brought a 3 iron and pitching wedge to Operation Desert Storm playing from foxhole to foxhole. Other duty stations include: Germany, Korea, Ft Benning, GA and Ft Stewart, GA, Fort Knox, KY, and multiple tours at Ft Lewis, WA where he retired in 2002. Dave graduated as Valedictorian from the San Diego Golf Academy in 2003 where he received an AAB in golf course management with certificates in tournament operations, teaching and club repair. Dave has experience working at private golf clubs in San Diego and recently comes to Tahoma Valley from Brookdale GC  and after serving ten years at Sumner Meadows Golf Course where he managed all aspects of the facility. Dave was elected into the PGA in July of 2010 and is a Class A member, active with the WWC PGA Pro-member series. Dave is very excited to be at Tahoma Valley.
Contact Dave at davekendall@tahomavalleygolf.com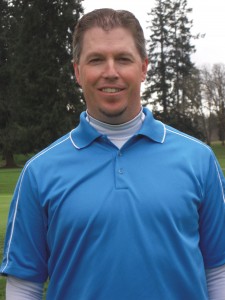 Glenn Beatty
Born on Oct. 1, 1976, Glenn grew up in the Buckley, WA. area.  he was an active participant in golf, baseball and basketball during his years at White River High School 92-95, including a 2 time player of the year honors in the Pierce County league for golf.  Glenn then headed to Tucson, AZ as a walk on at the University of Arizona before turning pro in 1999.  Glenn spent the following decade playing mini-tours and working as a professional at the esteemed Ventana Canyon Golf and Racquet club in Tucson before returning home in 2010.  He then became an assistant at Sumner Meadows Golf Links, in addition to landing the Head Men's and Women's golf coaching job at Green River Community college.  Glenn looks forward to passing on his knowledge and passion for teaching and playing acquired through a life long golf career.